We're delighted to announce some fabulous news from the Salon!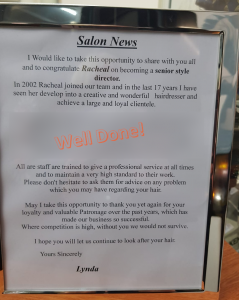 We'd like to congratulate Racheal on becoming a Senior Style Director here at Edge Hair.
Joining us in 2002, the past 17 years have seen Racheal develop into a creative & wonderful hairdresser, passionate & skilled at her craft and attracting a large & loyal clientele.
All our staff are trained to give a professional service at all times, maintaining the very highest standards so please do feel free to ask any of our staff for advice on any problems you may have with your hair.
We'd like to take this opportunity to thank all our loyal customers for their patronage over the years, we really appreciate each & every one of you!